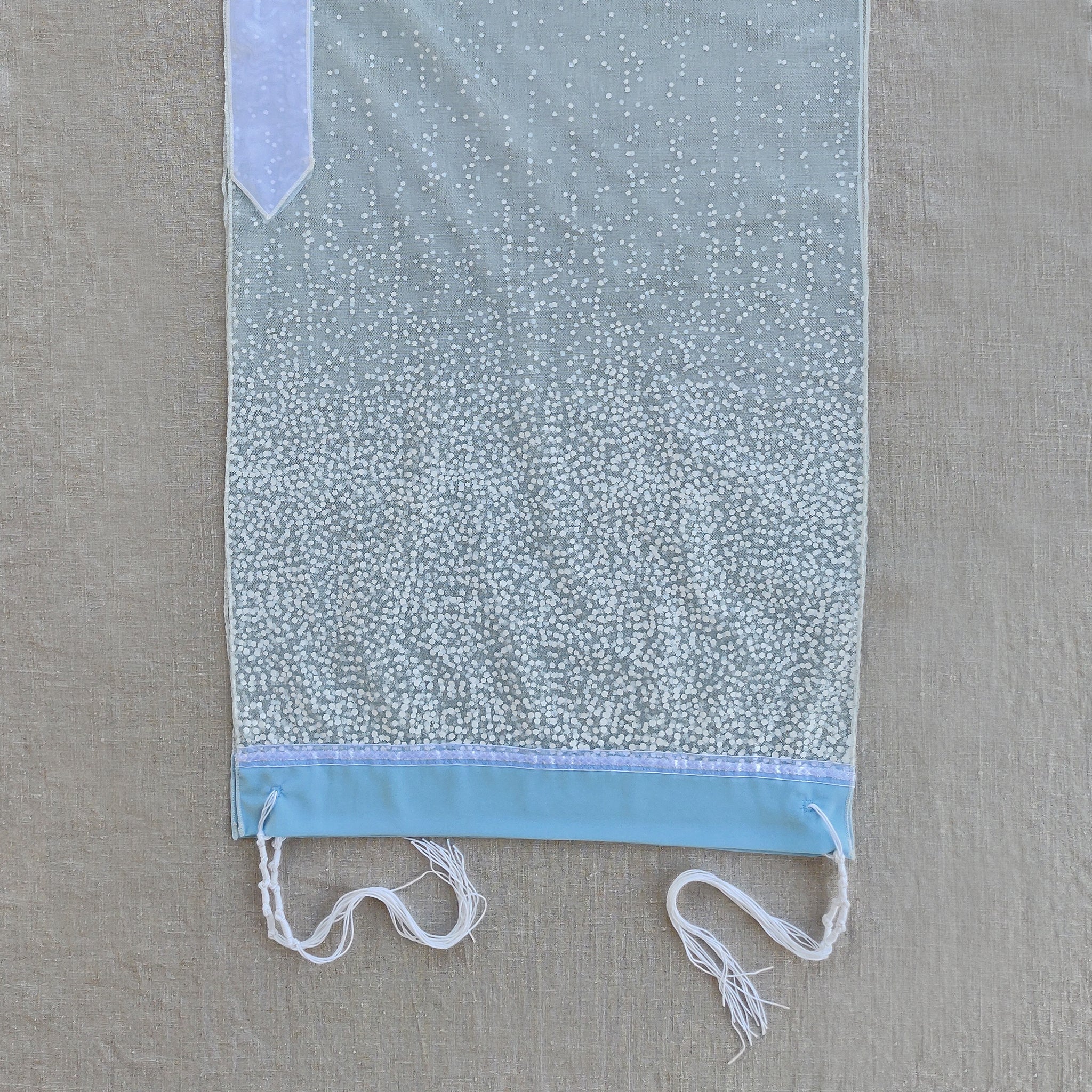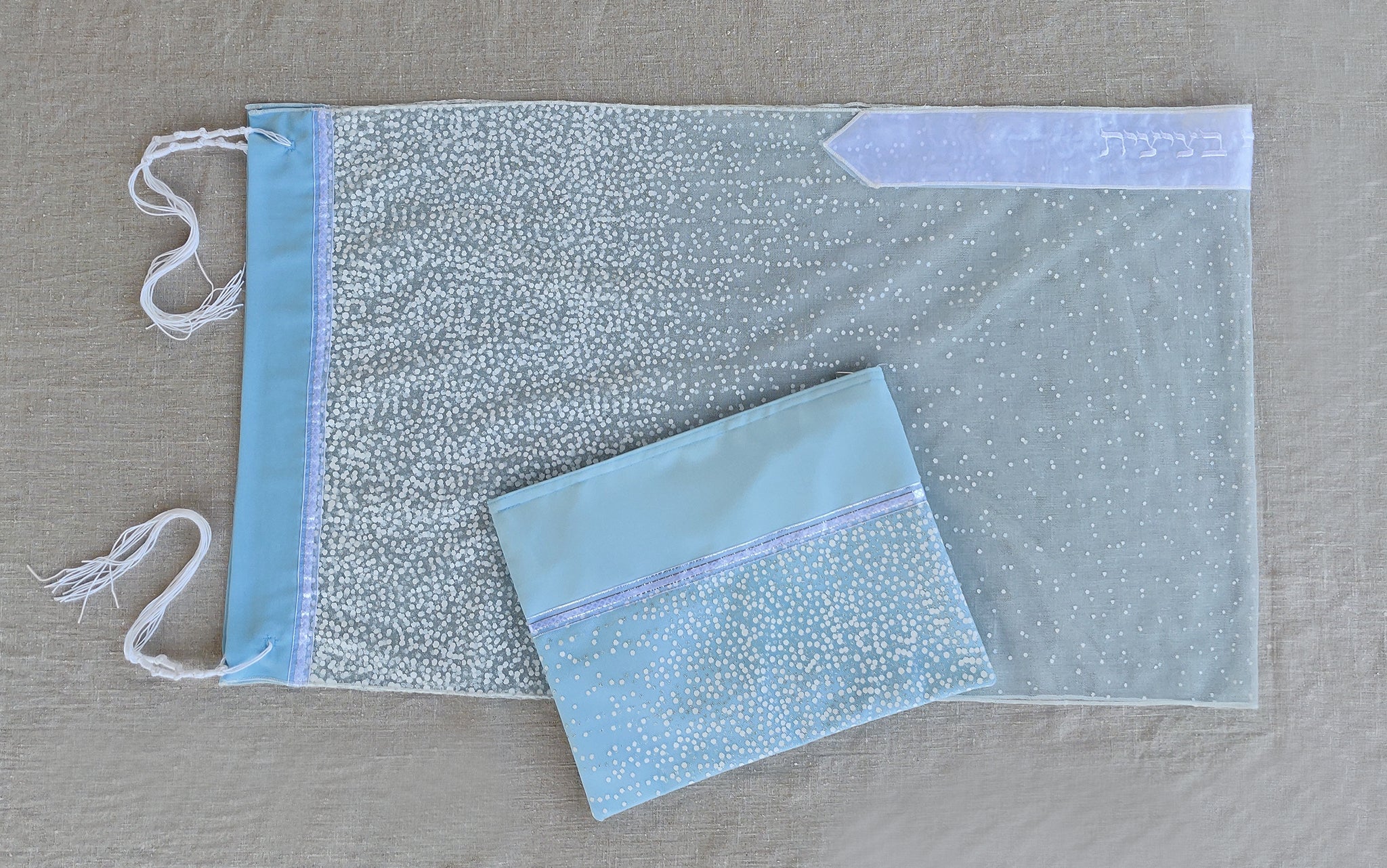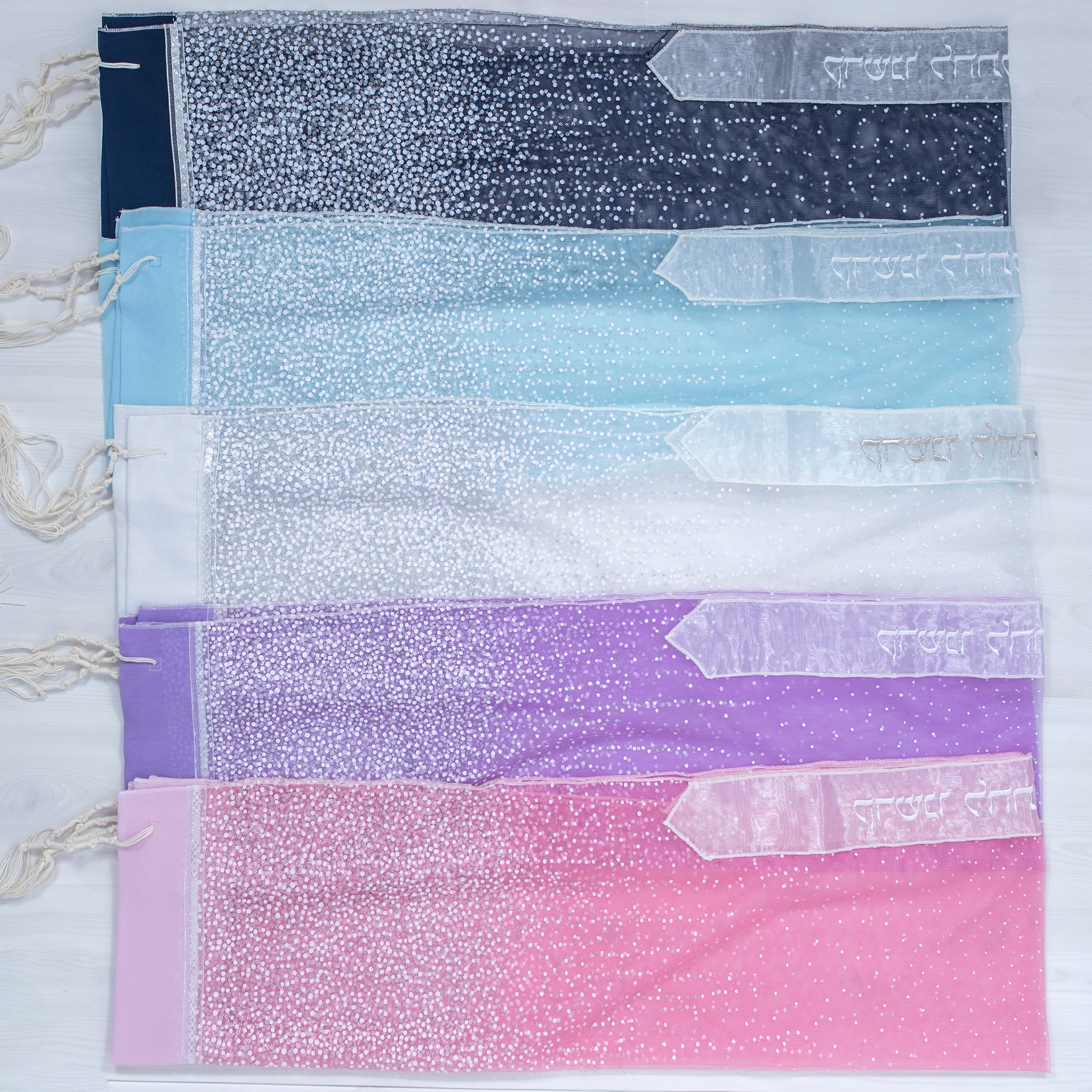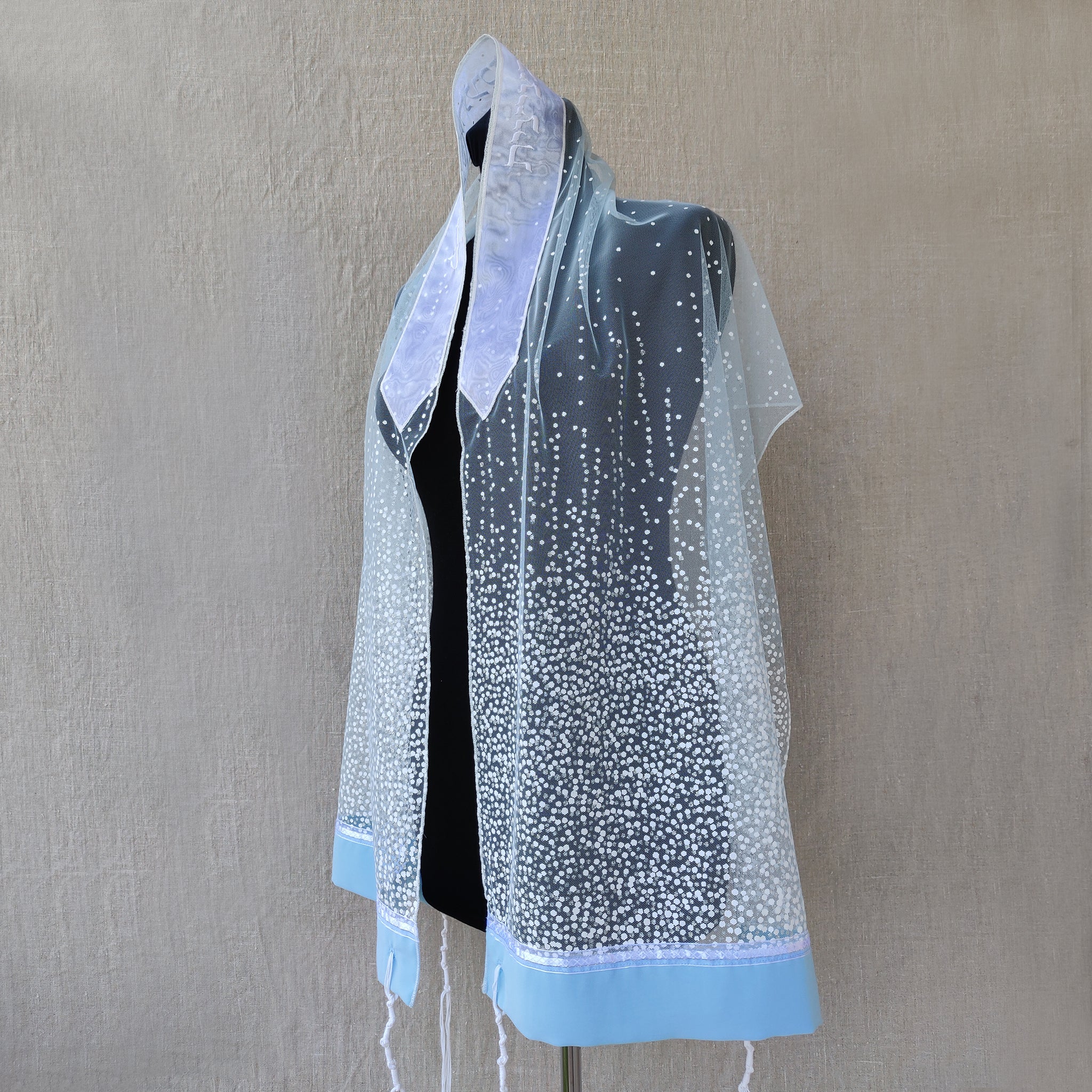 Lady Gabrieli - Tulle Tallit - Light Blue Glitter
Our Lady Gabrieli Collection is beautifully crafted from voile, tulle or viscose and comes in a variety of vibrant colored designs. Light weight, breezy and handmade, this collection is supremely feminine and stylish. Each tallit is adorned with an atara (collar) that contains the prayer for donning a tallit.
Our Lady Gabrieli tallits are works of art and as such, slight variations within the same design are always possible.
This Lady Gabrieli tallit measures 20" x 72" and comes accompanied by a matching tallit bag.
While ordering, choose to further customize your tallit by adding a tzizit that include Ptil Tekhelet (blue strands).
Since most of our work is custom made, please allow up to 10 weeks from order placement to shipping
Read more

Gabrieli tallits are hand woven in our studio in Israel by our experienced tapestry artisans. We use the finest materials to ensure a finished product of the highest standard.
Please keep in mind that our hand weaving capacity is limited and orders are fulfilled in the sequence in which they are received.
1. Shipping Policy
You can trust that your order will be quickly processed and safely delivered.
Items in stock will typically ship out within 2 to 7 business days.
As most of our tallits are made to order, please allow up to 10 weeks from order placement to shipping.
Custom orders of tablecloths and chuppahs can take up 12 weeks from order placement to shipping.
At the time your order is shipped, you will receive an email with the relevant tracking information.


2. Taxes

All Gabrieli online items are priced without taxes and are priced for export only. When shipping to an Israeli address, Israeli VAT (17%) will be added to the order total at check out.
Importing items may result in additional taxes at the time of delivery. Please check with your local tax authority to be informed.


3. Return and Exchange Policy

Gabrieli Hand Weaving is fully dedicated to your complete satisfaction. If, for any reason, you are dissatisfied with your purchase, we will happily exchange it for something else. Please email our customer service department at marcy.gabrielistore@gmail.com to arrange your exchange.

4. Pick Ups


Please be advised that orders requiring in store pick up cannot be transacted online. For assistance in placing such orders, please contact us using the online contact form and someone will be in touch with you.

SHIPPING RATES

Worldwide Standard - 45$ 
Custom Embroidered Blessing Atara

Our custom embroidered blessing atara (collar) is hand woven to match the design of the selected tallit. Additionally, the blessing for donning a tallit is hand embroidered down the center.

 

 

 

 

 

 

 

 

 

 

 

 

Tzitzit and Ptil Tekhelet

You can upgrade your tallit by adding the Tekhelet to your tzitzit.

Ptil Tekhelet provides genuine Tekhelet strings so Jews can once again fulfill the mitzvah of wearing Tekhelet on their Tzitzit.

About 1300 years ago, the secrets of Tekhelet, this wondrous blue color and the identity of the mysterious sea creature  – the Chillazon – that produced the dye was lost. Over the past half-century, a convergence of research and discoveries by Rabbis, scientists, archaeologists, and others has led to the conclusive identification of the sea-snail, Murex trunculus, as the authentic source of Tekhelet.
Choose options